The world's most
comfortable hotel bed
– with adjustable firmness
The bed
The Swedish YouBed is the world's first pocket spring bed with adjustable firmness to suit your personal comfort preferences. It does so without interfering with its outstanding comfort features.
The firmness of the mattress is easily adjusted using a hand control that displays the firmness combination of the bed and gives you your unique comfort profile. You can also fine tune different comfort zones of the bed (shoulders and hips) to achieve a perfect personalization.
Whether you prefer your bed to be super soft, very firm, or anything in between – a YouBed will always adapt to your special personal preferences. Regardless of height, weight, body shape or sleeping position.
YouBed is also the first bed that truly fits every couple, since you will also get the same perfect personalization in a double bed. A double bed from YouBed is composed by two single beds (with a comfortable overlaying topper), which means that both can get their personal preferences, regardless of their partner's setting.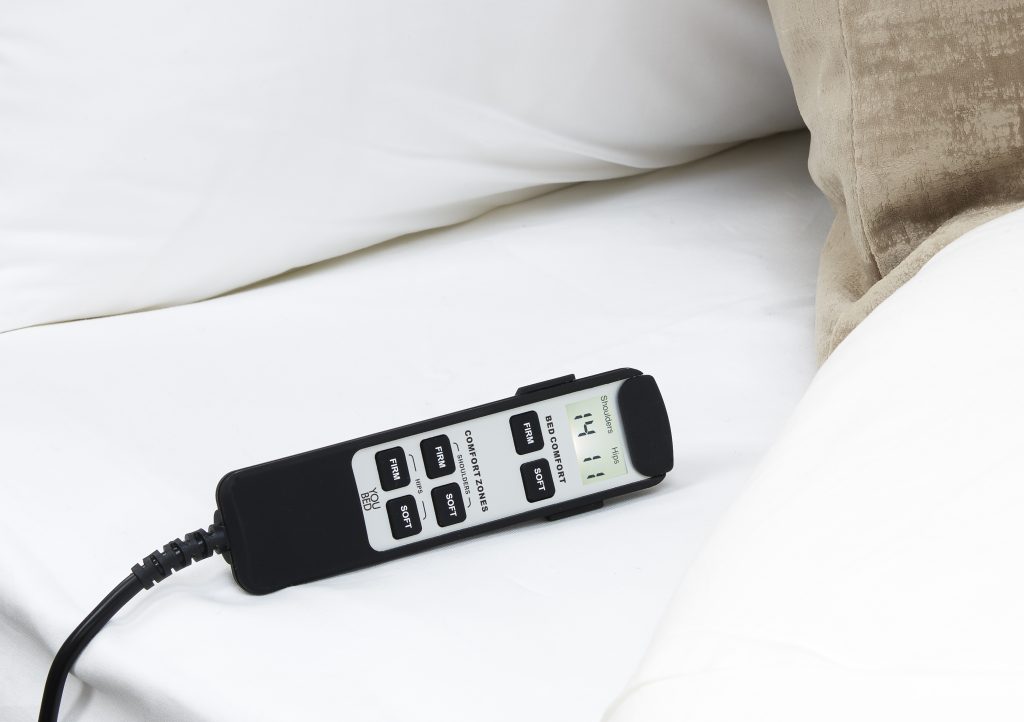 The perfect blend between technology and design
Apart from its unique adaptable functionality, YouBed is also a sophisticated frame bed construction that better absorbs the body shape and weight of the user. Meaning, the double layers of pocket springs are fully integrated within one single mattress. This construction enables the whole spring system to work independently over its total length, and not being prevented by fabric between two mattresses that are placed on top of each other.
Also, the bed surface and topper are made from high quality stretch fabric to truly optimize its ability to absorb every contour of the body and is thereby able to create the perfect balance between comfort and support.
Despite the fact that the adaptable YouBed is a patented, high-tech product, we have been very careful not to compromise with its look, since it is also utterly important to offer a bed with an attractive and contemporary design. Although frame beds with an integrated mattress are more advantageous compared to a double mattress continental bed, many people appreciate the look of the latter. This is why we have applied the continental look to the YouBed design.
In other words, YouBed is the perfect blend of outstanding high-tech functionality and elegant continental bed looks.