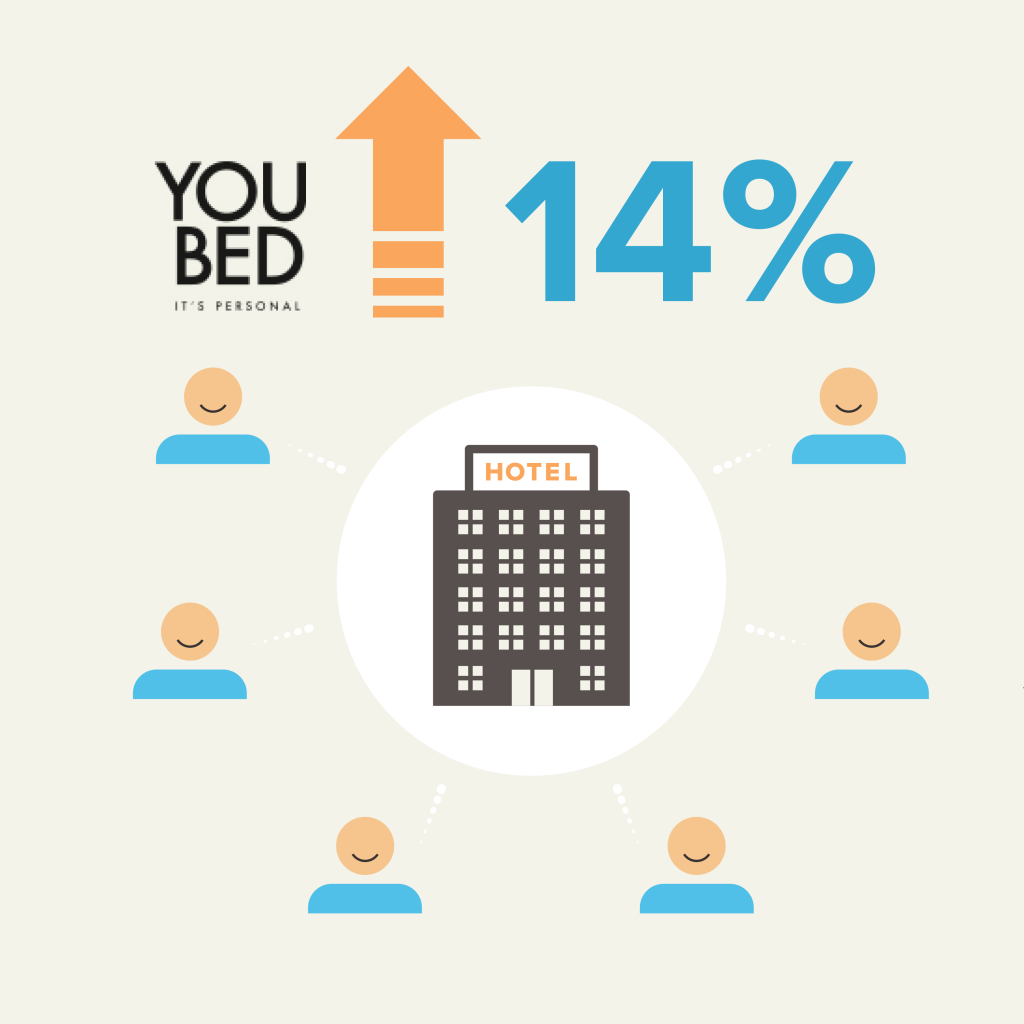 Do adjustable beds have an impact on guest satisfaction?
Loopons survey about customer satisfaction for First Hotels show that hotel rooms with adjustable beds leads to more satisfied guests. The survey is statistically secured and was made during the period April – August.
Smart Beds Lead to Higher Guest Satisfaction
Loopon's study on guest satisfaction shows that adjustable beds lead to more satisfied guests. The study is statistically significant and was carried on behalf of the First Hotels chain, during the period of April to August 2016.
Loopon compared guest satisfaction (based on the key metric Net Promoter Score) from the "Standard Twin Room" room category and the new category, "First Smart Bed", which was equipped with YouBed adjustable beds. Apart from the bed type, all other factors were kept identical (for example hotel personnel and other key factors). The two room types are offered in virtually all of the chain's 63 hotels.
The results of the study show that the "First SmartBed" rooms had 14% more promoters than the "Standard Twin Room" type, which resulted in a statistically significant increase of the Net Promoter Score.
– "Our vision is to help hotels exceed the expectations of every guest. In this case we have, in a short period of time, been able to see a statistically significant increase in guest satisfaction from the rooms where adjustable beds were installed. This is a perfect example of how a continuous measurement of guest satisfaction can result in clear decision making and can help hotels to invest in the right things", says Loopon's CEO Simon Finne.
For more information about the study, see the following link:
www.loopon.com/blog/adjustable-beds-study
About Loopon
Loopon gives hotels the possibility to collect and analyse feedback from their guests. The collection of data happens continuously through simple digital questionnaires that many guests choose to answer after their stay. The measurement gives access to a broad and accurate degree of understanding in changes of guest satisfaction. Furthermore, the data can be analysed for specific focus areas, allowing successful initiatives to be prioritised, and less successful interventions to be avoided. Today most of the Scandinavian hotel chains use Loopon's service as a tool to increase their guest satisfaction.
About the Net Promoter Score (NPS)
The Net Promoter Score (NPS) is calculated by asking the question: "How likely is it that would you recommend the hotel to a friend or colleague?"
– Guests that answer with a score of 10 or 9 are classified as Promoters.
– Guests that answer with a score of 8 or 7 are classified as Passives.
– Guests that answer with a core of 6 or lower than 6 or classified as Detractors.
Subtracting the percentage of Detractors from the percentage of Promoters yields the Net Promoter Score, which can rage from a low of -100 (if every customer is a Detractor) to a high of 100 (if every customer is a Promoter).
Get in touch with Loopon on [email protected] for more information about the service or the actual Study.
Do adjustable beds have an impact on guest satisfaction?