Sleep still sells at the Hotel Show 2017
Shaikh Ahmad opens the 18th edition of the annual show that is expected to draw 50,000 visitors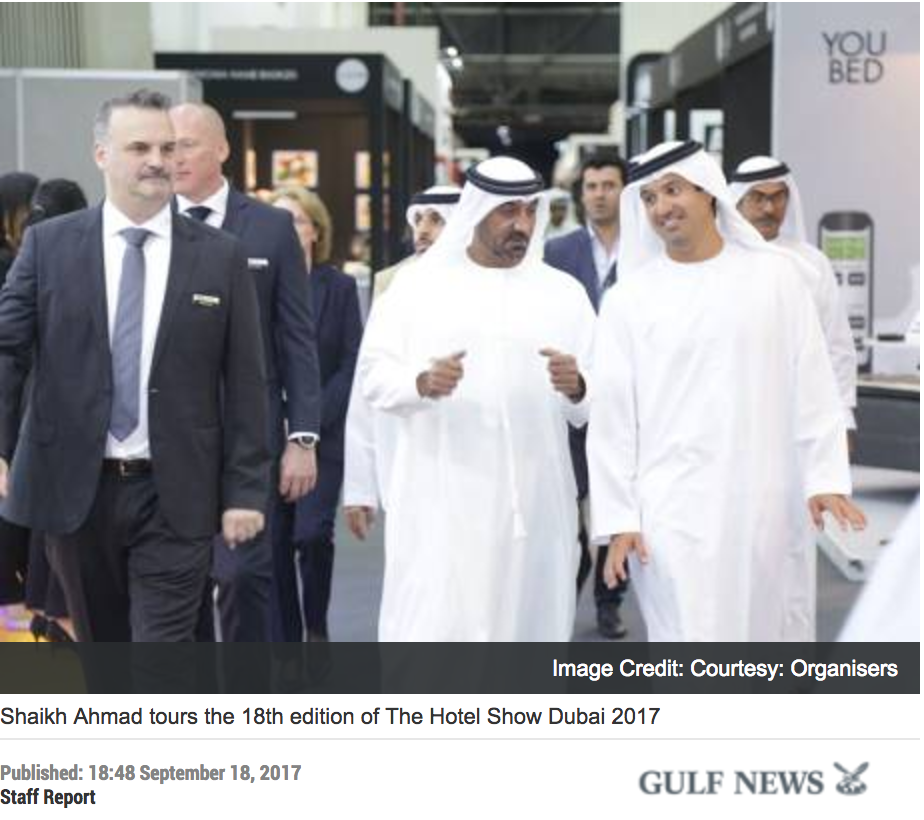 Dubai: The annual Hotel Show Dubai, and the Leisure Show Dubai, were opened on Monday morning by Shaikh Ahmad Bin Saeed Al Maktoum, President of Dubai Civil Aviation Authority, Chairman and CEO of Emirates airline and Group and Chairman of Dubai Airports.
Running until September 20 at the Dubai World Trade Centre (DWTC), the events are showcasing the latest innovations set to impact the region's growing hospitality and leisure industries, with more than 700 local and international suppliers from 44 different countries taking part.
At this year's Hotel Show event, one of the key emerging trends is in the personalisation of experiences. Products and services designed to aid hotel guests in customising their stay have been in high demand, according to people in the industry.
Experts believe that with the younger generation seeking more autonomy from hotel and dining experiences, opportunities for personalisation are on the rise — from digital check-ins to custom-built menus.
This trend also extends to the bed: Despite being a perennially important issue to hoteliers around the world, the focus on sleep has been intense at this year's show.
With many innovative technologies developed over the past few years, hotel operators are keen to ensure guests get the best night sleep possible.
Debuting at the Hotel Show is YouBed, a customisable hotel bed from Sweden that has already had success in hotels across Europe.
By using a hand control, hotel guests can easily decide for themselves how firm or soft they prefer their bed to be set. The product has already been picked up by Mövenpick Hotels & Resorts for their European hotel portfolio, and is soon to launch in the Middle East.
Mattias Sorensen, CEO of YouBed, said: "YouBed is the world's first hotel bed that provides adjustable firmness without interfering with its superior comfort features."
Another sleep system making an impact on the hospitality industry in Europe and Asia launching this week in the Middle East is FreshBed.
FreshBed enables users to set the temperature under the duvet to their preferred levels.
Barry van Doornewaard, CEO at FreshBed, said: "Scientists have discovered that there is a thermoneutral temperature for humans between 27 and 29 degrees Celsius. In this thermoneutral temperature zone, the body does not feel hot or cold and is at rest. Outside this zone, the body will start to function, even wake-up, to correct the temperature.
Whilst signature scents are already commonplace (the Ritz-Carlton and Jumeirah hotels, among others, are well known for this practice), this year several European manufacturers are unveiling fragrances that differ from person to person, and allow hotels to personalise scents in rooms based on mood and preference.
The Dubai Tourism endorsed event is expected to attract more than 50,000 visitors.
Link to article: http://gulfnews.com/business/sectors/tourism/sleep-still-sells-at-the-hotel-show-2017-1.2092181
Sleep still sells at the Hotel Show 2017